Barry R. Witt, M.D.
Medical Director, Yale Medicine Greenwich Fertility Center
Attending Physician, Greenwich Hospital
Associate Professor, Reproductive Endocrinology & Infertility Division
Dept. of Obstetrics, Gynecology & Reproductive Services,
Yale School of Medicine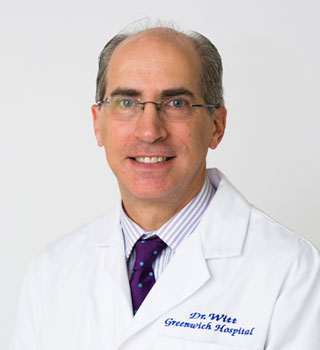 Dr.Witt, board-certified in both reproductive endocrinology and OB-GYN, has been practicing reproductive medicine since 1990. He earned his medical degree from New York Medical College, and completed his residency in obstetrics and gynecology at Albert Einstein College of Medicine. After a fellowship in reproductive endocrinology at Tulane University School of Medicine, Dr.Witt held an academic appointment at Albert Einstein College of Medicine and joined the hospital staff of Montefiore Medical Center. For 13 years he directed the Donor Oocyte Program at Montefiore's Institute for Reproductive Medicine & Health, where he was also program director for IVF and medical director for Assisted Reproductive Technologies (ART) for numerous years. In 2003, Dr.Witt joined the Greenwich Fertility Center as Medical Director and also serves as the IVF Program Director, Laboratory Director of Andrology and Director of the Reproductive Tissue Bank.
Over his distinguished career, Dr.Witt has received many awards and honors and has published numerous scientific articles in his specialty. Dr.Witt is a fellow of the American College of Obstetrics and Gynecology and a member of the American Society for Reproductive Medicine and the New York Obstetrical Society. He also serves on several national committees.